Yay, my first blog post! :)
This dress I made from Vogue pattern # 1314. I bought the spandex knit animal print fabric from my local Fabricville. It's basically a tight dress with gathers along the side seams.
It was labeled as an "Easy" sew on the pattern envelope, and by many reviewers on PatternReview.com. It probably took me longer than many as this was the first dress I've sewn with a lining (which I'm glad I did, because this dress needs it!) and I'm pretty new to gathering (or ruching).
This dress is easy to sew but not easy to wear for the faint of heart. It's *tight*. You definitely wouldn't want to wear this to an all-you-can-eat buffet :)
I wore this to my sister's Wedding last week and got some nice compliments from my family (and from the lady who was officiating the ceremony also, who coincidentally likes to sew). I wore it to church yesterday too, with my high brown boots instead of heels.
My full review of this pattern on PatternReview.com can be found
here
.
A lot of PR members were following a "Jungle January" Sew-a-long hosted by a fellow Sewing Blogger. I made this after the fact, but I think it would be fun to join in on one of those in the future. :)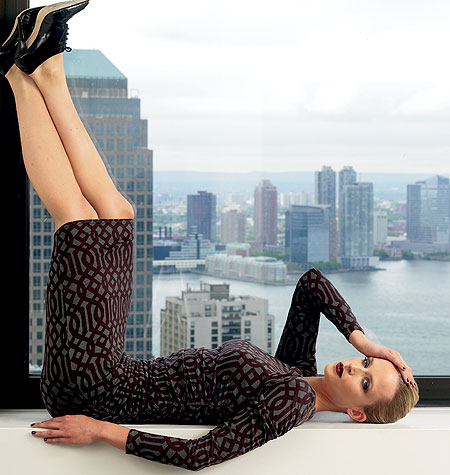 Vogue Pattern Photo
This "interesting" shot was on the PR website for Vogue 1314. Not sure what Vogue was going for with it, but it was kinda fun to duplicate the pose (below). A little more dramatic than I'm used to (and it amused some of the PR members too :) It took me a little while to stop laughing long enough for my husband to take the photo. The Vogue model looks somewhat bored, so I tried my best to keep a straight face (it took much effort let me tell you!)
My "Very Vogue" just-for-fun pose :)




The windowsill in our apartment is much too narrow to lie on, so the couch it was! Much more comfortable. Only thing is, the cats kept wanting to get in the photo :)
Side View

Back View