"For this reason a man shall leave his father and his mother, and be joined to his wife; and they shall become one flesh."

Genesis 2:24
I can't believe it's been almost two months since I've blogged about a dress I've made! I feel a little deprived:p It's been a busy summer with vacations, weddings and such. Oh well, it feels great to be back! :) And speaking of weddings, my brother's wedding was scheduled for earlier this past month of August, and hey, what better occasion to make a new dress than a wedding?;) My review on Pattern Review
here.
I've never considered myself a "girly-girl", but I've been really smitten with pink lately, particularly hot pink. My latest creation was inspired by the dress below while googling hot pink wrap dresses a few months back.....
The above stunner from Banana Republic made me *need* a hot pink/fucshia dress. I nicknamed my version, my "Barbie-doll" dress because I like to think Barbie would approve, especially of the colour ;)
P.S., I was one of those little girls that *loved* to play with Barbie's! I have fond memories playing "Barbies" with my cousin Alicia. She had lots of cool accessories, even a little CocaCola bottle! What fun we had :)
Ok, back to the dress! This gorgeous hot pink fabric, my mom bought me for my Birthday (thanks mom!). It's a polyester/spandex from Fabricville, labeled "Barcelona Knit". "Barcelona Knit", wow, I feel sophisticated even just saying the word! lol ;)
With my beautiful mom :) <3
I started working on my dress only a week away (shame on me) and wanted to make it more similar to BR's but I would've had to modify a wrap bodice pattern to have dolman-type sleeves, and it wasn't working out quite so well as I had thought, and didn't look flattering on my muslin.:/
Since my pattern drafting skills are a bit lacking and I was on a time limit, I opted to go with regular sleeves since I knew they looked decent:) The skirt on the BR dress has what looks like a tulip hem skirt, but I kept it simple and just added a front pleated overlay to regular straight skirt.
"Action" shot ;)
With my handsome, newly-wedded brother :)
Below is Chew-foot next to the laid-out skirt pattern piece from New Look 6215 (overlay, view C) and skirt piece from New Look 6097 (I used the back skirt pattern piece for both the front & back of the skirt part of my dress. I also used the bodice & belt from the ever-popular Vogue 8379 wrap dress.
Overlay of NL 6215 lengthened to match skirt piece from NL 6097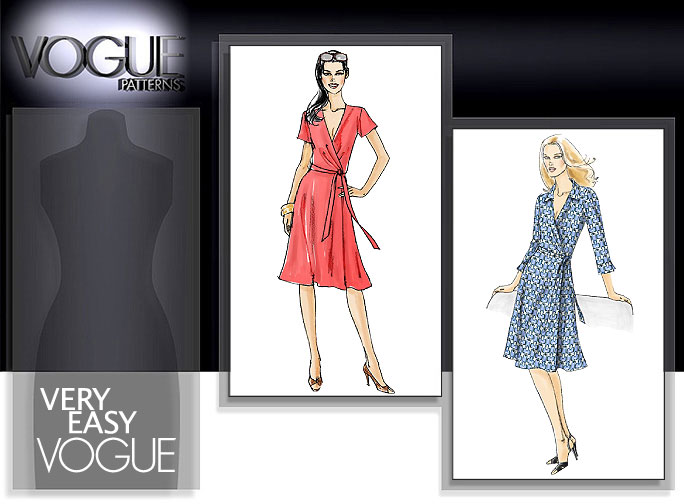 For the bodice & belt :)
For the pleated overlay :)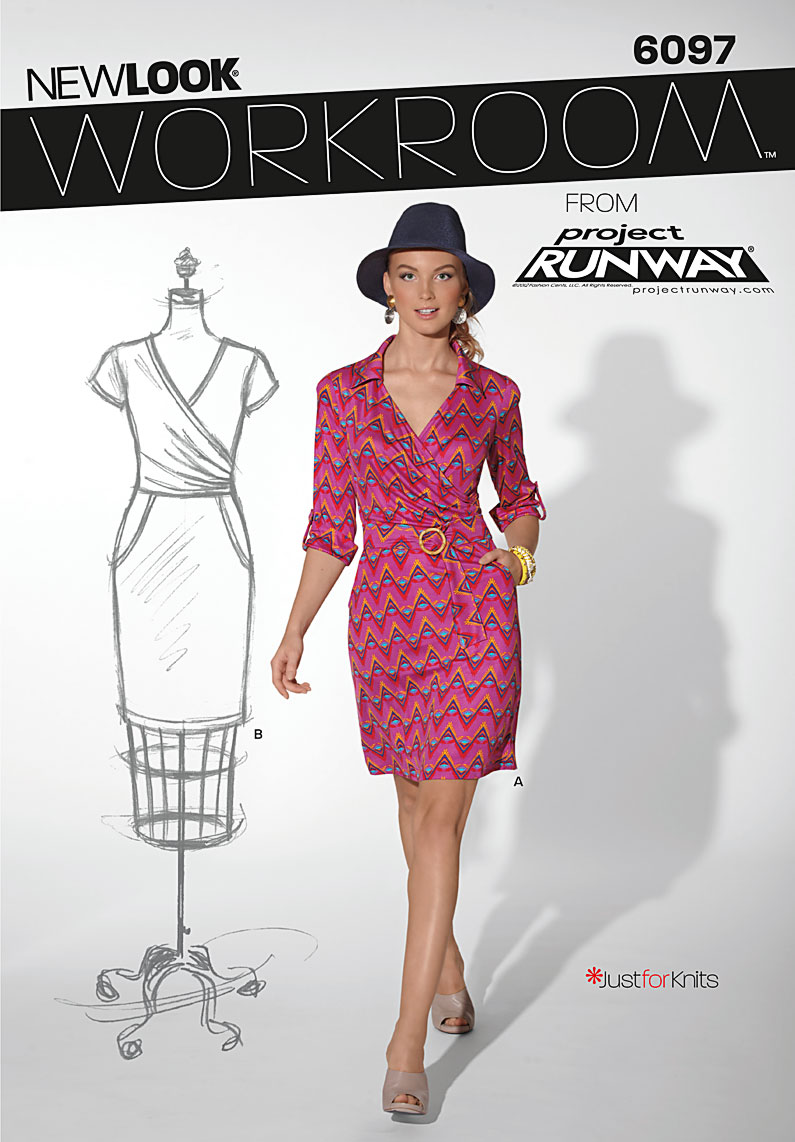 Used the skirt pattern piece (minus the pockets) :)
Having a "baladie", as my french grandmother would say;)
Anyone who has read any of my blog posts knows only too well how I like to add photos of my kitties. Here Chew-foot and Boris are getting into it. I had to break up this little tumble as they were getting a bit too close to the pattern tissue. Bad kitties!:)
I've done reviews on
Vogue 8379
,
New Look 6097
, so I don't think an elaborate review is necessary.
I do want to show you all my latest notion pictured to the right:) It's a measuring gauge with standard seam allowances printed on both sides. It was only a couple dollars at Fabricville and it's so handy! :)
Shown here is the lace "stay" I used to stabilize the shoulder seam. I marked the 5/8" seam allowance so I could line up the stay easier.
Pink thread makes me happy! :)
I "interlined" the front skirt piece to the overlay and sewed them as one to the back skirt piece (the back skirt piece was interlined with a lining fabric).
The photo to the right here is the back lining piece. I overlocked the bottom in lieu of hemming, in pink thread :)
I was concerned that the skirt side seams would be too bulky, but I think it worked out Ok. Plus, I didn't have time to try anything different. I finished my dress the day before the wedding!
I'm very pleased with my "Wedding" dress, and had some nice compliments. I think one of the nicest compliments I received was from an Aunt that knows I sew. She said when she saw me in it, she thought it was one I had purchased (I guess it looked more complicated than it actually was).
Til next time! Happy sewing :)