Jesus said, "Therefore whoever confesses Me before men, him I will confess before My Father who is in heaven. But whoever denies Me before men, him I will also deny before My Father who is in heaven."
"He who loves father or mother more than Me is not worthy of Me. And he who loves son or daughter more than Me is not worthy of Me. And he who does not take up his cross and follow after Me is not worthy of Me. He who finds his life will lose it, and he who loses his life for My sake will find it."
Matthew 10:32-33 & 37-39
"And blessed is he who is not offended because of Me."
Matthew 11:6
My first swimsuit!!! Only took me since last summer to finish it! Well, not that I was working on it these past several months (I'm slow, but not that slow!;). I put it aside last August, simply because it was just too busy with family vacations and such (the *and such* being taking care of Isaac, sewing with a baby is challenging!). Since then, Isaac has come a long way. He's much better sleeping at night and napping during the afternoon. He's also getting better at entertaining himself, so yay, I can sew a bit more:)
I purchased this tropical print swimsuit fabric at Fabricville last summer. It wasn't at my usual location though. I really wish I had bought more at the time, because I haven't seen it anywhere else since, and I would love to make something else with it. *Sigh*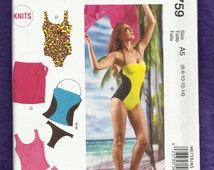 McCalls 6759
I've always wanted to make myself a swimsuit, and McCalls 6759 looked like a good basic pattern to use! I made view D, which is a simple one-piece.
Love the bright colours!:D
I deviated a bit in the instructions. I added foam cups to the bra section with the help of my Singer Sewing Library book on sewing activewear & swimwear. I also have the Kwik Sew book on sewing swimwear and activewear, but I prefer the Singer books, as they have a lot of photos showing the construction process.
Seriously! These books are awesome!!
Instead of following the pattern instructions to attach the elastic, I did my own thing (zigzagged the elastic on and turned the elastic under and topstitched with a double needle).
It's definitely worth it to do a bit of research on how to sew swimwear before tackling a pattern.
*Note* I did originally add a full lining but made a rookie mistake and didn't ensure the suit was long enough and used a lining fabric that didn't have any lengthwise stretch! I could barely get it on! I decided to cut out the lining (except for the bust and crotch area), so now it fits comfortably! I also sewed the side seams with an overlock stitch instead of a double-stitched seam as the pattern recommends.
I appreciate the full coverage!:)
My little munchkin is also ready with me to hit the beach (or pool)!
Not bad for 11 1/2 months post-partum!;)






Happy sewing all!:)